Looking for a Travel Experience that Will Change Your Life and How You See the World?
Find Out How One Experience in Tanzania Can Change Your Life!
Download the FREE Shortcut Guide to Find Out…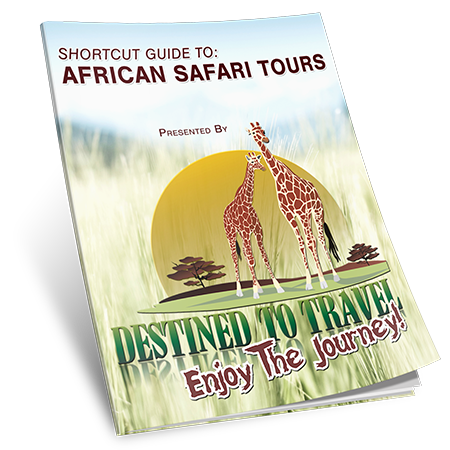 How the vehicle plays a huge role in the overall quality of your Safari?
Why not every driver is well suited to conduct an ideal Safari?
What necessities of a long trip some tour companies scrimp on?
What supplies will make your Safari comfortable and enjoyable?
How to avoid tours that make you feel crowded and rushed?
What you can expect in terms of the food and living quarters?
How to stay safe in these countries and what shots you will need before traveling?
Get your Free Safari Guide
Learn the right questions to ask plus learn about common myths and misconceptions about going on Safari in Africa.
We value your privacy and would never spam you
Marsha, Chicago,

traveled 2007, 2008, and 2013

This was the only trip that got into my soul so much that I went again in 2008 and again in 2013. 'Destined To Travel' does a safari like none other..totally customized and luxurious! Travel with Safari Kay and you are 'destined' to have a trip you'll never forget.
Professo Bob and Sharon, NY,

Kenya Nov. 2011

Kay has changed my life and my perspective on how life needs to be lived. It was a reality check of real life people, of a world that is real of uncorrupt values and appreciations. I cannot say enough about the accommodations and the food at each of our stops, we were pampered and treated like royalty. I would not have learned so much about the land, resources, culture, people and wildlife. Thank you for sharing with us three of the most rewarding memorable weeks of our lives!
Carol, Florida,

traveled 2013

I never considered myself an adventurer or a nature lover, but I'm so glad I decided to go on this trip. It was an experience of a lifetime that I would have regretted missing most definitely! Africa is now in my soul and I'll be back again!
Charles, California,

traveled 2011

Each day was a different adventure. Before I went I thought if I saw one elephant, I had seen them all. I was so wrong. You can never see enough of their strength and peacefullness. All the animals and birds had a story of it's own. I had such a great time I will be going on another African Safari with Kay in a year or two. If you never imagined yourself on an African safari (I didn't) think again. It just might be the trip of your life.
Lauren, Colorado,

Tanzania and Kenya 2013

Perfect, Amazing, Unspoiled, Beauty, Perfectly Amazing Honeymoon and trip in every way. Best Honeymoon and Trip EVER, Everyone should do this once, well actually twice or three times, it's so big, beautiful and the most awesome experiences, don't put it off, animal populations are declining, see it now, sooner rather than later. I don't see how any trip could beat this one.
Eli Weiss,

Founder of Wildize

Kay has introduced a whole host of people to Africa and elsewhere through her travel safaris and has been a tremendous help to WildiZe Foundation. Kay has an undaunted passion for life that shines through in everything she does and to anyone she meets. We connected instantly on our love for wildlife, culture, and desire to make a difference. She has helped to build my organization's strengths and outreach, she's one in a million.
Kenneth,

CA, traveled Tanzania, 2008, 2010

I experienced in Tanzania was nothing like I could have ever imagined. I went into this journey looking to have a great time, instead I had the best time of my life. Years later I am still in awe of what transpired on our fearless journey into the bush. It was an awesome and memorable trip, and I'll be going again. My experience in Zanzibar was also life changing, and I'll be headed back there as soon as I can.
Erica, Arizona,

Tanzania and Kenya in 2013

Just when I thought it wouldn't get any better, it did - the accommodations, the wildlife we saw and the excursions we took.  I've never stayed at places this nice - the accommodations, personalized service, and food are alone worth more than the price of the trip.  The highlight was visiting Pete at his Children's Home and all the wonderful kids there, listening to Pete's stories, wow….… Erica Arizona, Dec. 2013
Get your Free Safari Guide
Learn the right questions to ask plus learn about common myths and misconceptions about going on Safari in Africa.
We value your privacy and would never spam you
How One Trip Changed My Life
That first trip to Tanzania literally saved my life, and chose me to be it's ambassador to help others who are experiencing grief and depressed break free and experience the peace and harmony of Africa. It's a gift that I would have never thought would have come out of such tragedy. I found my way home and you can too.
Living to die vs. Living to live
In my darkest time, I was living to die, now I'm living with more joy than I ever have. Four years of misery, deaths, tragedy and misfortunes set me on a path of destruction, depression and heartache.  It was a path that I certainly didn't choose for myself, but one that put me in the very darkest part of my life. And it happens to all of us, unexpected life change.
I was beginning not to know what the sun shining through the clouds looked like. I was beginning to lose my smile, and literally lose myself.  I shut myself off and I lived as if I was going to die, it was an awful time. I knew I wanted to get through it, but I didn't know if I could.  Life then seemed to leave me in a desperate state of despair and without hope.
Sometimes You've Got to Get Away to Come Back Stronger.
Then one day out of the blue, I woke up and decided I needed to get away.  I desperately needed to change my environment, and get away from the memories.  I searched for a trip, available at a moment's notice and as far away as possible. That trip happened to be Tanzania and yes, there was one space left.  Perfect!  I knew nothing of Tanzania, but, I knew it was in Africa!  Within a month, I left, alone and still in grief.  But when I got there, the people put me in another place and time; a time that would keep me from thinking about all I went through.  An environment that would push depression far from my memory. I woke up to the sound of wildlife, to the rays of sun shining through the windows of my 'tent'.  Life was good. And I wanted that same feeling for the next stage of my life.  I wanted that adjustment to 'the new normal.'
Hope. Always Move Forward. 
It was after that Tanzania experience that life changed for me.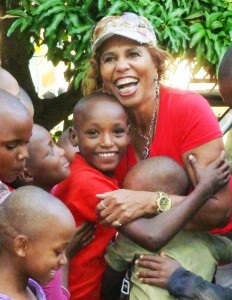 From preparing myself to die to living with a purpose.  That purpose eventually became organizing, planning and escorting groups on safari, adopting and supporting a school/children's home, to eventually partnering with a local guide and purchasing a safari vehicle in Tanzania. Soon after those first few trips, my new agency Destined To Travel was borne.
That is the short version of how I found myself in Africa. I continue to amaze myself thinking about the 'then' and coming to grips with all that happened to bring me to the 'now' in my amazing life.
May you find your way home like I did. - Kay Trotman, Destined to Travel.

For more information contact Safarikay@earthlink.net and visit http://destined-to-travel.com.